BTS' RM concerns fans with recent long letter
advertisement
BTS' RM concerned fans with a recent letter.
RM left a letter for fans on Weverse in the early hours on November 4, and some ARMY are wondering how the BTS member is feeling. He wrote as follows:
"I hope you're all well.
It's becoming more and more difficult to write long letters, but I feel as if I'll completely forget how to write them if I don't so I decided to write one.
Though I don't know how to tell you the random thoughts that have been in my head, the fact that I want everyone who loves us to be as peaceful as possible hasn't changed.
I've been searching for peace and stability for so long, but I can't erase the idea that people, or maybe even I, always want a kind of drama. I think it's a strange disease that makes me anxious when things stabilize a little.
A lot of time has passed since I came to Seoul at 17, but when I look back, I often feel strange that nothing has changed. In the end, I'm only 28 years old, and I think it'll take countless years to be as firm as I hope.
To be honest, I started writing in a diary again, but I didn't want to pick up a pen today so I'm writing here instead. I don't know why my writing is always the same just like they were on the fan cafes. I really miss you, and I think about you now and then.
Winter came so suddenly and scared me, but it's a good season to walk. Let's meet again when the wind gets warmer soon. As always, I'll be working on music, and my mind and body will be waiting every day. I miss you!"
What are your thoughts on RM's letter?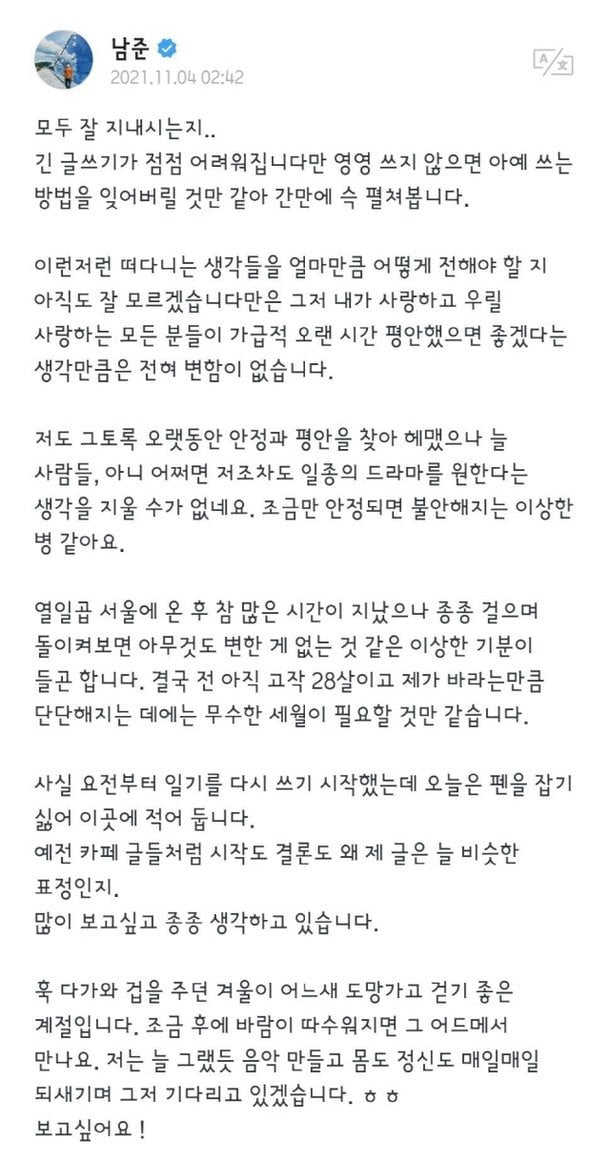 advertisement
BTS' RM concerns fans with recent long letter
Reviewed by
Bears
on
November 04, 2021
Rating: